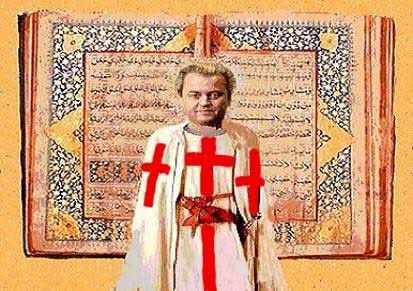 Geert Wilders anti-Islam video,
Fitna, hit the web yesterday
. It was a rocky debut. Wilders has been hit with copyright infringement claims. The Danish cartoonist, Kurt Westergaard, responsible for the drawing of Mohammad with a bomb in his turban complained on Dutch TV that Wilders used his work without permission.
Dutch director, Rob Muntz, was caught off-guard by the clip showing him interviewing the late Theo van Gogh. Muntz is seeking legal advise. In yet another faux pas, Wilders mistakenly showed a picture of Dutch-Moroccan rapper, Salah-Edin, rather than the Van Gogh murderer, Mohammed Bouyeri. Edin will also be suing.
Fitna
is sickeningly predictable on a lot of levels. Surahs from the Qur'an are chosen for their menace as the video moves from scenes of the 9/11 terrorist attack to the carnage in Madrid. Moody music plays in the background as the the lilting call of an imam announces the destruction of the infidel.
Ranting Muslims... raving imams... threatening displays... dead bodies... Nazi salutes - a tableaux of fear and loathing. A Muslim child refers to Jews as "monkeys and pigs." The video is a clever exercise in demonization. Goebbels would have been impressed.
Fitna reflects the paranoid vision of a politician who has had some highly incendiary things to say about Islam. Wilders has stated that he wants to ban the Qur'an because he believes it reflects - "the sick ideology of Allah and Mohammed as it is set out in the Islamic Mein Kampf: the Koran."
Many so-called "holy books" contain objectionable content. The Bible celebrates acts of genocide carried out by the "chosen people." The latter-day "chosen people" in the guise of Zionism pose as big a menace to world peace as any Islamist resistance you care to name and unlike Iran, Israel has nukes... it's not a matter of conjecture. Zionism and its policies in the Middle East have arguably been one of the driving forces behind the extremism that stalks the modern world.
Wilders is a wily politician, but he is also an idiot ... a useful idiot, because there is much to be learned from this. You only have to read his "analysis" of Islam to get an insight into where he is coming from. He refers to Islam as "the ideology of a retarded culture." He wants the Judeao-Christian heritage recognized as the dominant religious culture, or Leitkultur, in the Netherlands.
Wilders' extremism reflects his narrow and bigoted view of Islam. When French Muslims were polled, their two main concerns were lack of employment and Islamic extremism. But Wilders ignores poll results such as this and instead demonizes Islam by comparing the Qur'an with Mein Kampf and smearing an entire civilization. If a Muslim produced a video that showcased the dark side of the Bible and compared it with Mein Kampf, how would Christians react? We would never hear the end of it.
There are many positive aspects to Islam that a balanced portrayal should include. But Wilders of course is only interested in a message that matches his contempt.
Oriana Falacci
is Wilders' hero. In his writing he quotes admiringly from her book,
The Force of Reason
:

A moderate Islam does not exist. It does not exist because there is no difference between Good Islam and Bad Islam. There is Islam and that it the end of it. Islam is the Koran, and nothing other than the Koran. And the Koran is the Mein Kampf of a religion that desires to eliminate others- non–Muslims - who are called infidel dogs, and inferior creatures. Read the Koran, that Mein Kampf, yet again. In whatever version and you will see that the evil which the sons of Allah against us and themselves has perpetrated comes from that book.
Wilders thinks that Dutch citizens who counsel forbearance and tolerance in their approach to Islam are cowards:
The Hague is full of cowardly members.Fearful people who are born cowards and will die as cowards. They find and promote the idea that the Dutch culture is has its foundation in Jewish-Christian- Islamic –tradition. They award a general pardon to liars and criminals.
No the coward is Wilders. It is much, much harder to take the path of steadfast endurance in the face of a great challenge, while not being afraid to criticize as the situation demands.