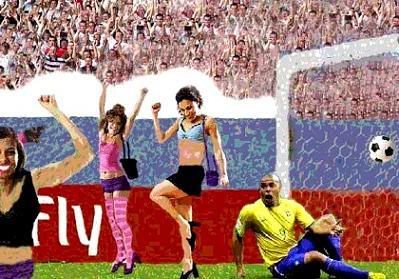 After dropping his girlfriend off at her place in Rio, the striker figured the night was still young. He picked up three sex workers charging $300 a-piece and booked into a nearby motel.

Ronaldo claimed he was shocked to discover that the "females" were in fact transvestites.

Local press reports, quote one of the transvestites, Andreia Albertine, saying that Ronaldo turned aggressive and threatened violence. Albertine also claimed he was on drugs.

According to reports filed by the Rio police, Ronaldo alleged that the transvestites tried to rip him off. He accused Andreia Albertine of taking his automobile documents and demanding $30,000 - a request he refused to comply with.

Albertine and her associates took off with Ronaldo's documents. Outside one was heard yelling - "the phenomenon doesn't want to pay."

When Ronaldo made his exit from the motel, Albertine videotaped him with her mobile phone camera. The video that appeared later on YouTube shows "the legend" wearing a Flamengo football club shirt. Someone behind Albertine is overheard saying "this is to prove it's really you."

Rio police superintendant Carlos Nogueira noted that it isn't illegal to pay for sexual relations. He said it was likely that Ronaldo had been the victim of an extortion.

A police officer who was in on the interview said that Ronaldo cried and expressed concern that the incident could spell the end of his career. The striker, who is on sick leave, also told police that he had been having a few psychological problems lately related to a knee injury.