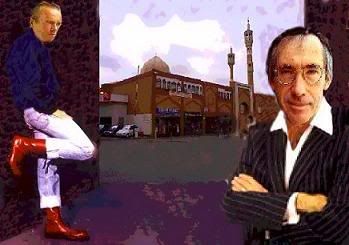 Martin Amis had some harsh words for Muslims in his essay,
The Age of Horrorism
. Amis has his supporters - notably novelist Ian McEwan and author Christopher Hitchens. Both have defended him against charges of racism.
There's nothing terribly surprising about what Amis had to say. He was simply stating what a lot of his fellow countrymen think. What
is
surprising is that those who share Amis' bigoted views have managed to keep the zipper on it for so long.
England is and always has been infected with deep seated class-based prejudices and ingrained racism. Muslims are just the latest addition to the list of bogeymen.
The Irish have long been the recipients of practiced condescension. When the IRA was perceived as the number one threat, the Irish-in-England were the targets of the type of suspicion and hostility now reserved for Muslims. None of that was particularly new incidentally, the Irish have been the favorite whipping boys of the English for ages. Less than a century ago you could come across cartoons in Punch magazine that depicted the Irish as ape-like hoodlums, wielding obligatory shillelaghs.
So when Martin Amis took the lid off a very old can, there wasn't a lot that was surprising - we're just dealing with a new scapegoat. His disparaging views of Muslims, Islamists in particular, prompted an old friend Eric Alterman to pose the question: "When did Martin Amis – whose early journalism is among the best I've ever read – become such a jerk?" It looks as though Amis may be infected with the Mark Steyn virus. Its highly contagious these days.
This is a sampling of Amis' complaints and nostrums for misbehaving Muslims:
The Muslim community will have to suffer until it gets its house in order. What sort of suffering? Not letting them travel. Deportation - further down the road. Curtailing of freedoms. Strip-searching people who look like they're from the Middle East or from Pakistan ... Discriminatory stuff, until it hurts the whole community and they start getting tough with their children...
It would help if the author's understanding of Islam inspired confidence. Even his mate Hitchens has commented that Amis incorrectly conflates Islamism with Islam. He also appears to have a rather vague understanding of the distinctions within Islam. He describes Sunnis as 'legalistic' and refers to the Shia as 'dreamers, more poetic and emotional' - a description more suited to Sufis.
The English, or at least a significant number of them, simply don't get it. Despite hurtling downhill from their perch at the head of an Empire, they continue to incubate a type of conditioning that doesn't wear off easily after centuries of viewing the non-English part of the human family as various species of underling.
Unlike English Christians, those Muslims who have come to be known in recent times as Islamists, didn't lord it over two fifths of the globe for the better part of two centuries. They didn't engage in the imperial exploitation of native peoples on the major continents, nor did they create a mercantile system geared to exploiting and ripping-off overseas resources in order to enrich the merchant classes back home. That honor goes to the Christian English.
A new book by Amitav Ghosh titled
Sea of Poppies
, explores the role of the British in the Indian opium trade. Ghosh brings to light much new information that had been whitewashed, including the truth that the Raj in India was essentially financed by the opium trade.
Novelist, Ian McEwan, recently chimed in claiming in an interview with the Italian newspaper,
Corriere della Sera
, that he 'despises Islamism'.
Of course Islamism
does
have totalitarian inclinations. It is a male-dominated culture. It is doctrinaire and legalistic. But McEwan fails to mention that a great many European Muslims don't necessarily share those values.
Making Muslims the target of scorn and suspicion is somewhat ironic when you look at the social mayhem in communities in the UK that are mostly white and Christian. Take Corby in Northants as an example. The ethnic breakdown in Corby is 98.4% white. Asian or Asian British 0.6%. On the religious front 69.4% Christian and 0.2% Muslim.
Residents of Corby have complained for years about delinquent behavior that includes arson attacks, car theft, fire bombings, street fights and drunken youths yelling at all hours of the day and night. A resident of Corby named
Jane Colman who was interviewed by the London Telegraph secures her front door with two bolts, a chain and a Yale lock.
There is much about English society that could be tagged 'uncivilized' and not a lot of it has to do with Muslims.
Amis overstates the case and undermines his credibility by focusing on the Muslim community in such a prejudicial fashion. He has been overly influenced by those who have made it their business to hype the threat posed by Islam to European civilization.
Theories about a global Islamist network have been wildly exaggerated. Hitchens' talk of "Islamofascism" feeds into the type of paranoid mindset that promotes views of the war-on-terror that are really little more than the stuff of fantasy. One of the best books of recent years that takes aim at the poppycock and nonsense churned out by the Bush administration is
R.T. Naylor's "Satanic Purses: Money, Myth and Misinformation in the War on Terror."