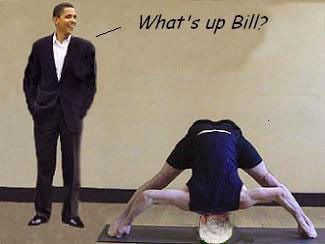 What's up with Bill Clinton? During the Democratic campaign there were
signs that he was out of sorts
. He personalized the race in a manner that seemed small minded, claiming in private that he disliked Obama. His outings on the hustings were off-base at times. It seemed to be more about him than the business of backing up his wife in her efforts to become the Democratic nominee.
Observers speculated about his heart bypass surgery, wondering if the operation and follow-up medication had impacted his behavior. Then there was the Todd Purdum article in
Vanity Fair
, that included allegations the former president was leading a colorful lifestyle and seeing women on the side. The way he reacted to Purdum confirmed earlier speculation about mood swings and anger issues.
He called the journalist "sleazy," "dishonest," "slimy," and "a scumbag."
The Dem campaign is over. Barack Obama is the Democratic nominee. Hillary Clinton is solidly on-side. But Bubba according to accounts, is still simmering with anger about perceived personal attacks. He is particularly aggrieved about the manner in which the Obama camp interpreted some of his comments as racist.
One friend described him as still "mad as hell." Another admits to finding Clinton's behavior "really, really shocking."
A source claims that the reason the former president is keeping his distance is because he doubts that Obama can win the big one. He figures Obama will have trouble winning over strategic voting groups - in particular working class whites in the swing states.
Clinton told friends that Obama could "kiss my ass," in return for support
. Not exactly a positive way to get out the message of Democratic unity.
Word is Obama is going to make a call.