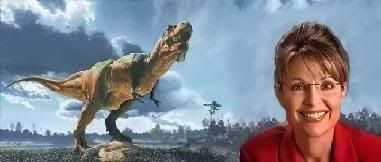 Philip Munger teaches music at the University of Alaska in Anchorage. He also runs a blog called
Progressive Alaska
.
In June 1997, soon after she was elected mayor of Wasilla, Palin met up with Munger when she was scheduled to address a small group of home schooled students. Munger asked the mayor about her religious beliefs and
Palin informed him that "dinosaurs and humans walked the earth at the same time."
When Munger asked about prehistoric fossils and tracks dating back millions of years, Palin told she had "seen pictures of human footprints inside the tracks."
The conversation with Munger made clear that Palin was endorsing the view of a so-called "young earth". She said that she believed humans and dinosaurs coexisted a mere 6,000 years ago. That would be about 65 million years
after
scientists claim dinosaurs became extinct.
The creationist views contained in the comments to Munger are backed up by positions Palin took when was in the race for governor. At that time she called for faith-based "intelligent design" to be taught along with evolution in Alaska's schools.