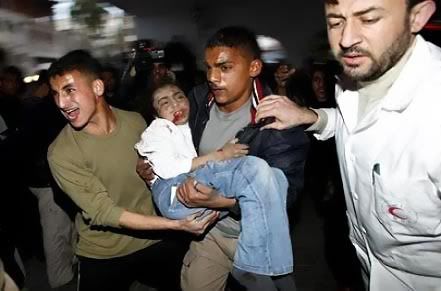 *The images on this post (mostly from MSM sources) were removed without any notification to the blog operator.
Pictures speak louder than words.
Although Israeli authorities have
banned foreign journalists from entering Gaza,
photos have been making their way out.
Mads Gilbert, a Norweigian civilian doctor working in Gaza despite the desperate shortage of medical supplies, has spoken of 'an attack on civilians'. These harrowing photos bear out Gilbert's claims.
Listen to Gilbert's comments
on an AOL video here.
Save the Children says that a hundred or more children have been killed by the IDF in the course of this criminal campaign. Many more have been injured and are in need of medical treatment that is increasingly hard to come by as the crisis continues.
It should be clearly pointed out that the outrage over these killings is not restricted to those who are non-Jewish and non-Israeli. Many Jews have been deeply upset and angered by this. Today in Toronto a group of Jewish women staged a protest demanding an end to the violence.
These atrocities shame our common humanity.
Two girls who were killed in an air attack on Beit Hanoun in the
northern Gaza Strip early Tuesday. Local sources report that a missile
destroyed a house belonging to Talal Hamdan in Beit Hanoun,
killing his two daughters of 12 and 4 years old.

Palestinians carry the body of 4-year-old Lama Hamdan
during her funeral in the town of Beit Hanoun in the
northern Gaza Strip December 30, 2008.
Palestinians mourn beside the bodies of three children
in Rafah in the southern Gaza Strip December 29, 2008.
Boy who received medical treatment following an IDF air strike.
(Yahoo photo news source)

Palestinian women mourn over the bodies of three Palestinian
children from the Balosha family, before their burial at
Kamal Edwan hopsital in Beit Lahiya, Monday, Dec. 29, 2008.
Samera Baalusha (34) carries her surving child Mohamad (15 months)
while she waits to see the body of her daughter Jawaher Baalusha
(aged 4) during the funeral held for her and four of her sisters who were
killed in an Israeli strike, on December 29, 2008 in the Jebaliya refugee camp.
This photo was published by a Norwegian newspaper today.

You can link here to the
newspaper that published the photo.
A wounded Palestinian boy is carried by his father at a hospital
in Gaza City following an Israeli air strike
A Palestinian security force officer carries a
wounded girl into the emergency room at
Shifa hospital in Gaza City, Saturday, Dec. 27, 2008.
A wounded Palestinian boy is carried by his father following
an Israel air strike in Gaza December 28, 2008.
A Palestinian man carries his wounded child to the treatment
room of Kamal Edwan hospital following an Israeli missile strike
in Beit Lahiya, northern Gaza Strip, Monday, Dec. 29, 2008.
Two children killed in an Israeli air strike.

A dead Palestinian child is taken for burial (Yahoo photo news)
Sign a petition to help stop the violence in Gaza. There a number of different sites that are carrying online petitions or that link to one: