There have been a number of sexual assaults recently in Italy allegedly carried out by immigrants. The incidents have been used by anti-immigrant factions out to whip up xenophobia amid calls for a crackdown.

Violent incidents directed against immigrants have increased in Italy. Roma camps have also been targeted by gangs of thugs. Lega Nord (the Northern League) has helped to fuel much of the anti-immigrant feeling despite its laughable claims to be non-racist and non-violent. A while back League head, Umberto Bossi, referred to African immigrants as "bingo-bongos" and suggested opening fire on the boats of illegal immigrants.
Another League xenophobe in a class of his own is the former mayor of Treviso Giancarlo Gentilini... read some of the unbelievable comments this guy has made over the years -
here
.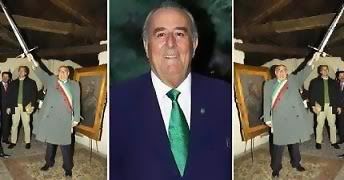 Gentilini the crusader waving sword
The backlash against immigrants even extended recently to cuisine. Foreign foods have become as suspect as foreigners. The food offensive began in Lucca, where the council banned any new ethnic food outlets from opening -
details here.

Given the climate that currently exists in Italy, anyone who believes that citizen patrols will just be benign back-ups to the local constabulary is being extremely naive. Even police unions in Italy have warned that the decree will encourage vigilante behavior.