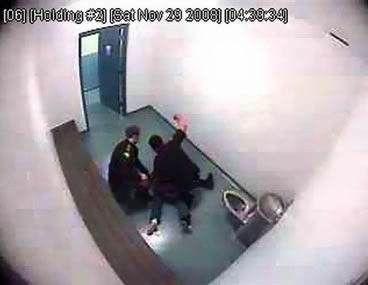 Deputy Paul Schene is the latest cop to
star on YouTube
. Schene was caught on video brutally beating a minor.
The attack took place in a cell at suburban SeaTac City Hall in Seattle. The victim of the attack, a 15-year old girl, apparently annoyed Schene by kicking off her shoe in his direction. He backs the girl against a wall, grabs her hair and slams her to the floor. A second deputy appears and gets in on the action.
This is a criminal assault... a view supported by King County Prosecutor Daniel Satterberg who said "We believe this is beyond just a case of police misconduct, it's criminal misconduct. This is clearly excessive force."
Schene has previously been investigated for shooting two people, killing one of them. The incidents occurred in 2002 and 2006. Both times his actions were found to be justified, according to Ian Goodhew, prosecutor's deputy chief of staff.
After the incident in Seatac Hall medics were called when the girl complained of breathing problems.
She has been booked for investigation of auto theft, but pleads not guilty to taking a motor vehicle without permission. She has also been booked on third-degree assault. Seems her offense amounted to kicking off the shoe, and if there was more to it Schene was still in no way justified in using excessive force.
Assaulting a fifteen year old kid who has been restrained is about as low as it gets. Prosecutors say Schene had no explanation for why he struck the girl after he had her in the holding position.
More on the story -
Huffington Post