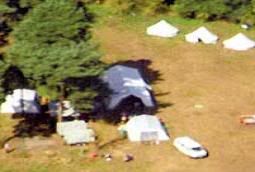 The German government has
banned a neo-Nazi group
that used summer camps to indoctrinate children. The group "Heimattreue Deutsche Jugend" or German Youth Faithful to the Homeland, was known for pushing racist, Nationalist Socialist ideology.
In raids across Germany, police seized Nazi related "educational" material, including tracts praising Hitler and the Third Reich. Comic books with xenophobic themes warning of the threat of the dread foreigner were also seized. Praising Nazism is forbidden under Germany's post-WW2 constitution.
The HDJ was founded in 1990. At its summer camps young people were put through military style drills and essentially brainwashed.
There were courses in "racial science" that promoted "blood purity". Foreigners were described as "enemies of the people". Tents bore names that call to mind the Third Reich - for example the "Führer's Bunker."
This may seem somewhat like a freakish deja vu in the context of all that has gone down since the 1940's, but the HDJ actually wielded a fair amount of influence in far-right circles. Their approach was similar in some respects to that of the "Viking Jugend"- or Viking Youth - that was banned in Germany in 1994.
German Interior Minister, Wolfgang Schäuble, didn't mince his words when commenting on the break-up of the group: "Today's ban puts a stop to the disgusting activities of the HDJ. We will do everything in our power to protect our children from these rat catchers."
According to analysts,
neo-Nazi recruitment is up
in Germany, particularly in the east. The recent
Dresden march
to commemorate the Allied bombing of the city attracted some 8,000 neo-Nazis.