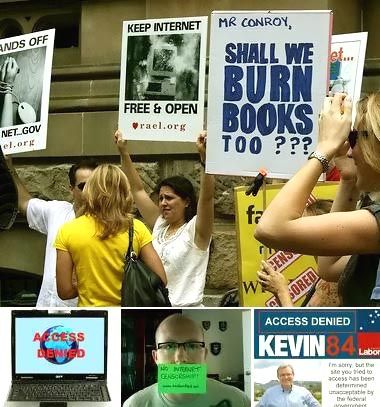 Australian Communications Minister
Stephen Conroy
is hoping to get parliamentary go-ahead for an internet filtering system that if implemented could pose a threat to the free-flow of information. It would make Australia the strictest internet regulator among the world's democracies.
The move to set up a mandatory
ISP-filtering system
has been described by Google as "heavy-handed" and beyond what is required to deal with objectionable content such as child porn and sexual violence.
In
its submission
to the Australian government Google expressed the concern that the "scope of the content to be filtered is too wide" and that the state controlled filter "would slow browsing speeds". Google's Lucinda Barlow said the plan went beyond filters used in Canada and Germany to block objectionable content. Ms Barlow told the Australian Broadcasting Corp: "This enters the gray realms of restricted classification, seeking to ban politically and socially controversial material..."
Critics have warned that trying to block content on high traffic sites such as YouTube could overload the filter. It could have implications also for other large popular sites such as Wikipedia, Facebook and Twitter.
The
US state department
has difficulty with the Australian plan.
Guardian
:

A US state department official said that it had raised concerns with Australia over the plans, which are to be voted on by its parliament.

"We remain committed to advancing the free flow of information, which we view as vital to economic prosperity and preserving open societies globally," Michael Tran, a state department spokesman told the Associated Press.

"We don't discuss the details of specific diplomatic exchanges, but I can say that we have raised our concerns on this matter with Australian officials."
A Courier Mail article has a few thoughts on the financial downside of the plan:

The Government's plan will impose new costs on ISPs, including hardware and software purchases and installation, and ongoing maintenance which could be passed on to internet users.

Internet Industry Association chief executive Peter Coroneos says the costs would be "not insignificant".