This week a Romanian artist named Ion Barladeanu had a show at the
Anna de Villepoix gallery
in Paris. A Guardian article describes him as looking "every inch the established artist" - a transformation almost as riveting as the extraordinary collages that have brought Barladeanu late breaking fame in his early 60's.
As recently as 2007 nobody in the art world had heard of him. Some articles about his life in Romania describe him as 'homeless' and a 'tramp'. He lived for some 20 years in the garbage room of a block of flats in Bucharest and made some coin from odd jobs. In his spare time he worked on the collages that he sometimes refers to as 'movies'... cinematic photograms that are darkly satirical, with shades of surrealism and dada.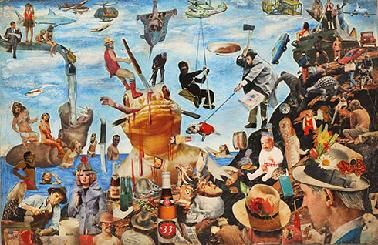 Link
here
for the full gallery.
During the
Ceausescu years
Barladeanu created the collages from images he discovered in old magazines. There was personal risk involved because a number of the pieces take aim at the former dictator, the man who the artist refers to as "my greatest fear": "I knew that if he knew about my work Ceausescu would not sleep in peace in his grave... If people had found out about my work they could have chopped my head off … But this is my revenge."
A Guardian article
'Art world swoons over Romania's homeless genius'
describes how the artist was discovered:
Eventually, in 2007, Barladeanu showed his collages to an artist who happened to also be combing through the garbage. Amazed, the artist called a gallery owner. From that moment on, Barladeanu's days in the dump were numbered. "I instantly thought it was something very important, at least for Romania," said Dan Popescu, whose H'Art gallery specialises in young, little-known contemporary artists. With badly decaying teeth and a face ravaged by over 60 Romanian winters, Barledeanu was not young, and his anonymity would not last long.

Within six months, he was given his first exhibition, a flat of his own and a brand new set of dentures. In 2009, he made his first trip overseas and showed some collages at the Basel art fair. This week, he jetted into Paris, saw the Eiffel Tower for real and had lunch with the actor and fan Angelina Jolie, in town for her next movie.
What gives Barladeanu's work its unique appeal is that he is very much an outsider, not a product of the art club. The authenticity of his vision is particularly impressive given the harsh conditions of his life and the personal risk involved during the Ceausescu years.