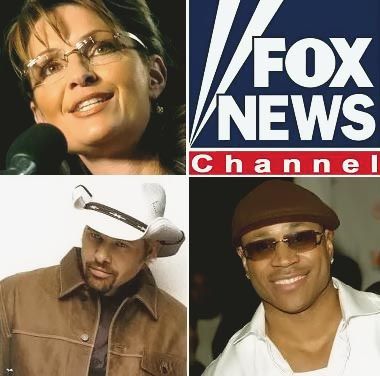 Sarah Palin's media makeover
continues apace.
"Real American Stories" due to debut on FOX Thursday is being hosted by Palin. Like her upcoming Alaska show on TLC, the emphasis is on character and narrative. FOX describes "Real American Stories" as 'tales about overcoming adversity'. A way to show Palin in a user-friendly light with low gaffe risk.
The show features interviews with various celebs. Seems FOX has has been taking a few high handed liberties. Neither LL Cool J nor Toby Keith were informed that they were scheduled to make an appearance on Palin's show courtesy of recycled interview footage.
On
his Twitter page
LL posted this message:
Fox lifted an old interview I gave in 2008 to someone else & are misrepresenting to the public in order to promote Sarah Palin's show. WOW
FOX responded by pulling the LL (aka James Todd Smith) segment from the show which airs April 1. Toby Keith's segment still appears to be on schedule.
A FOX spokesperson gave
TVNewser
this snippy statement: "... it appears that Mr. Smith does not want to be associated with a program that could serve as an inspiration to others, we are cutting his interview from the special and wish him the best with his fledgling acting career."
Not exactly "fledgling". LL's acting career goes back to "Krush Groove" in 1985. He stars in "NCIS: Los Angeles" and has appeared in several movies including "Deep Blue Sea" and "Any Given Sunday".
In Toby Keith's case, same deal. Old footage was revisited with the intention of presenting it as though new. Keith's representative said: "We were never contacted by Fox. I have no idea what interview it's taken from.They're promoting this like it's a brand new interview. He never sat down with Sarah Palin."
Understandably Toby Keith, a registered Democrat, and LL Cool J have had something to say via their spokespersons about the move by FOX. It's kind of like being ambushed. An interview you gave way back ends up being recycled and the next thing you know you're appearing in front of the nation on a show hosted by Sarah Palin. For a lot of people that would be the equivalent of a worst nightmare. Makes you wonder if this is the only way FOX can get big name artists to actually hang with Palin.
In response to a statement from LL Cool J's spokesperson that the interview "was being repurposed without LL's permission", FOX retorted: "Fox News did not commit to restrictions on its interview with Mr. Smith so therefore the network did not need his permission to use the interview in this program."
Link also to
Huffington Post
-
NY Times
-
MSNBC