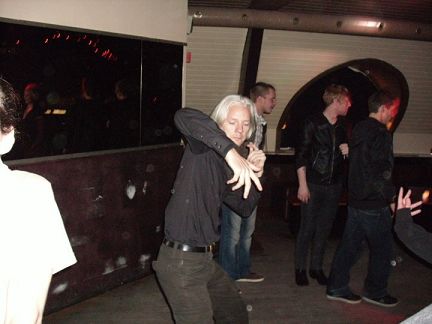 A video of
Julian Assange
dancing at a club in Reykjvik became available recently.
When DJ Seth Sharp spotted a silver haired dude on the dance floor back in 2009 he couldn't resist recording the action. At the time Sharp had no clue that the dancer was none other than Julian Assange. As Sharp recalls it the music that inspired Assange's routine was a Benny Benassi remix.
You can link to the site
candyday
that gives some additional background on the visuals - also to
sethsharp.com
.

Sharp:


Julian was really letting go and all over the dance floor and I was really impressed at his lack of shyness... I found his ability to let go on the dance floor very inspiring and I thought it would be interesting to let other people see it...

A friend of the DJ named sebbi liked Julian's unique style: "...I have to agree that although Julians dancing style is quite strange it also kicks ass and I will confess that I have stolen quite a few moves from him."
Assange's dancing style was also commented on by former WikiLeaks associate
Daniel Domscheit-Berg.
In his memoir titled "Inside WikiLeaks: My Time at the World's Most Dangerous Website" Domscheit-Berg offers a mixed review of Assange's skills on the dance floor.
Julian took up a lot of space when he danced — almost like a tribesman performing some kind of ritual. He'd spread his arms and gallop across the dance floor, taking huge steps. He didn't look very rhythmic or coordinated, and he didn't seem to have that much feeling for the music, but he did possess a certain cool. He didn't care what other people thought of him. You need space, he once told me, for your ego to flow.
Course there's more to Julian Assange than dance moves and the speculation about his personal life that's been doing the rounds on the web. Beneath is a video titled "Julian Assange: Why the world needs WikiLeaks."