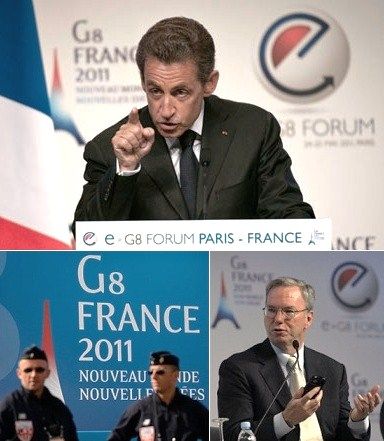 French President Sarkozy has referred to the need to "civilize" the internet as a central issue of France's G-8 agenda. This week Sarkozy opened an 'historic' conference on the internet and the future of the "digital ecosystem." The Paris forum brought together some famous names, including Google's Eric Schmidt and Facebook's Mark Zuckerberg.
Reuters
:



Sarkozy... lauded the gathering of executives... for helping fuel the Arab spring and spurring economic growth.

But he maintained that governments have a role in setting ground rules to limit the abuses and excesses of the Internet, setting up a clash with Schmidt, who said no one would win if "some stupid rule" stunted the growth of the Web.
Sarkozy's call for "a more civilized internet" translates into a push for greater governmental regulation - all-in-all not such a hot idea. The last thing we need is more clout for Big Brother in the internet zone.
The French president has shown some
rather draconian inclinations
when it comes to the web. He has referred to the internet as the "Wild West" and an "extralegal zone." Not long ago in France he was
behind a law that called for copyright pirates to be cut off from the internet
. Of course he couches his calls for regulation in high sounding terms, referring to a "moral imperative" in order to correct "excesses." In all of this it's hard not to suspect a hint of self-interest in a president with notoriously thin skin. The internet has been rife with unflattering stories about Sarkozy's private life. Not long ago his Facebook account was hacked and the message put out that he wouldn't be running in the next election.
Colorful comments by his secretary of trade Frédéric Lefebvre have added to the impression of scare tactics aimed at paving the way for regulation. With more than a touch of hyperbole, Lefebvre described the Internet as a hotbed of "psychopaths, rapists, racists and thieves… The lack of regulation on the Net creates victims every day… How long will they tolerate young girls being raped before the authorities react?"
John Perry Barlow of the
Electronic Frontier Foundation
understands the 'civilizing' of cyber space rather differently, as less about regulation and more about freedom:
We've been trying to civilise cyberspace for 22 years and I think we may have different notions of what that means. We think that civilisation implies liberty, implies openness, implies, to the extent possible, minimal regulation...
Internet culture doesn't exist in some parallel universe, even though Sarkozy might suspect it of doing so. It is responsive to the needs of its users. Last year in Germany there were privacy concerns related to Google's Street View. A number of companies adopted a code of good practice for "geo-data." This includes the option to blur images of homes and persons on request.
Increased governmental regulation will have a suffocating effect on everything from free expression to the growth of the digital economy. The internet zone is very different from a societal sector in which governmental regulations may be appropriate. For one thing in the world of tech change and innovation happens much more quickly. It's not easy to foresee the consequences of regulation. Regulations that in the short term may seem desirable, could very quickly turn out to be more of a liability than an asset.
The advocacy group
La Quadrature du Net
has come out in strong opposition to Sarkozy's proposals. Spokesman Jérémie Zimmermann described the summit as "a farce." Along with other Net activists, La Quadrature du Net warn that the world's governments are uniting to "control and censor the internet." Like Sarkozy - Italy's premier Berlusconi has been
pushing his plans for internet regulation
.
Government regulation runs counter to the spirit of a free web in which each of us has a stake.
Link also to
Guardian
-
Guardian
(on the reaction of UK's Cameron) -
Huffpo
-
BBC (video)