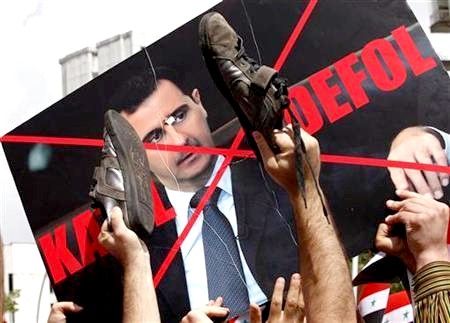 I've had reservations about writing about Syria because frankly it's hard to know exactly what is going on at ground level. I'm opposed to American intervention, so although criticism can be leveled at Bashar al-Assad's regime, engaging in it is invariably read as support for a western "solution."
In the intervening months there has been a descent into domestic turmoil in Syria, fomented according to al-Assad by "terrorists", "traitors" and a "foreign conspiracy".
There is much truth to al-Assad's claim. There has been foreign pressure and interference by regional players. But the main impetus for change has come and is coming from the Syrian people. Years of stagnation, a tenth
five-year plan
that didn't deliver, concentration of wealth and power in the hands of those with regime connections, the lack of a social security net ... just some of the reasons why Bashar al-Assad is facing anger in the streets.
However I don't believe the uprising by the people is a call for western intervention or any type of American-led solution. Some may be asking for military help in the form of a no-fly zone, but they don't want a solution imposed from outside. Attempts to try and exploit the situation in Syria by American proxies in the region will backfire and very possibly lead to a broader war.
Syria hasn't been immune from the tidal wave of change ushered in by the Arab Spring. Neither has it been insulated from the revolution in communication technologies. YouTube is a window al-Assad can't close. Evidence has been mounting of crimes committed by Syrian forces against civilians.
Amnesty International has called on the Arab League
to address ongoing allegations of serious human rights abuses.
Al-Assad although undoubtedly complicit, continues to engage in denial when addressing the events unfolding around him. He stated just this week that 'There is no order about opening fire on any citizen...'. Who is he trying to kid.
Bashar's father
Hafez al-Assad
, ruled Syria with an iron fist. His image dominated the public square like a presiding deity. In some loyalist circles Bashar - recipient of refracted glory - is accorded similar respect.
The Assad appeal is rapidly wearing thin. The will of the Syrian people can't be suppressed with brutality as happened in the past. This week Al Jazeera published a broadcast from a mosque by an indignant imam who complained that:
"Assad's soldiers – God curse them – say Assad is their God; if that doesn't make you angry, what will?"
For more -
Al Jazeera
See also -
Al Jazeera Syria blog
and
The Guardian