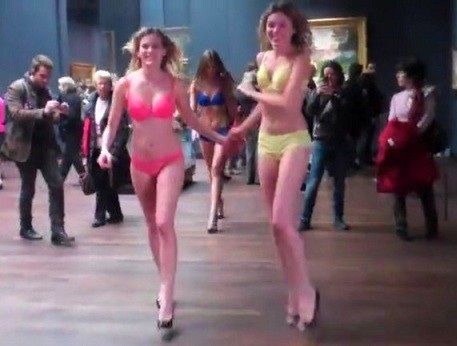 The French lingerie company Etam has been using "flash flash" ad campaigns to get the message out. Judging from the coverage of their recent unofficial "show" at the
Musee d'Orsay
in Paris it's grabbing attention.
Museum visitors had their afternoon interrupted when three Etam models dropped their trench coats to reveal colorful lingerie. The trio took off running through galleries hung with works by impressionist heavies such as Renoir, Monet, Seurat, and Cézanne.
Museum officials were not amused. Musee d'Orsay has a strict no-filming policy without prior authorization. Director Guy Cogeval has threatened legal action if Etam doesn't remove the video from its website. A bit late since the video has gone viral.
The museum released a statement calling the impromptu flash show "a serious infringement of the Orsay's rights and the rights of others."
Etam clearly thinks it's worth the risk. After all a stunt like this gets picked up and relayed across the net with lightning speed - free. Outraged officialdom and threats of lawsuits just add to the hype.
The company has staged similar events before. Lingerie models were filmed in their skimpies skating at the Eiffel Tower ice rink. In another shoot the models stripped down to bare essentials to go through security at Charles de Gaulle airport.
Flash ad campaigns pull major coverage by turning product promotion into a show stopping event... a news story. In a culture already ad-saturated it just pushes advertising further into the public sphere in ways that can be well... annoying.
An example is T-Mobile's flash mob ads
.
Flash mobs have drawn criticism from transport police in the UK for obvious reasons - hundreds of dancing, strutting people can be a major hassle at the peak of rush hour. Pushing product in public spaces in an effort to grab some cheap publicity isn't something everyone wants to celebrate. In the case of a publicity campaign for a worthwhile cause that takes it to the street - different story.
Video of the Musee d'Orsay event from
Huffington Post