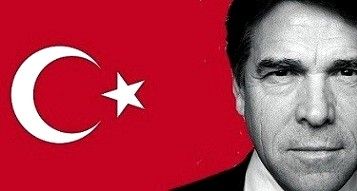 As though we need any more proof that American politics on the right risks a descent into unhinged nuttiness, up steps Rick Perry with his wisdom on Turkey.
Perry has
had a few challenges
in the course of the Republican race. A candidate touted as a top gun in the right's campaign against Barrack Obama has revealed himself over time to be a few bullets short of a full round.
Most recently Perry suggested that Turkey is run by Islamic terrorists. He made this astonishing remark during a Republican candidates' debate while attempting to drive home a point about honor killings in Turkey.
That wasn't his only outlandish claim. During a TV interview he
told CNN's Wolf Blitzer
that Turkey received $11 billion in aid in the last few years. This is incorrect unless Perry's "few years" covers the time span between now and the 1940's. Since 2009 Turkey has received $21 million in military and security assistance.
Turkey is a long standing NATO ally. Just recently a
NATO early-warning radar system
- part of the missile defense system in Europe - was set up in Turkey. The White House stated in response to Perry's remarks, Turkey is "on the front line in the war against terrorism."
Syria's Bashar al-Assad who is viewed by many on the right as a backer of "Islamic terrorism" has been roundly criticized by Turkish authorities for attacking his own citizens. Turkey went as far as slapping sanctions against Damascus last month. PM Erdogan has
called for al-Assad to step down.
So-called "honor" killings happen in many countries, not just Turkey. They happen here in Canada, in the UK. They happen in the USA. They happen in Sweden, in Denmark, in the Netherlands. It is a mistake to use it as an excuse to tar Turkey - and by extension Islam - with the "extremist" brush because at root it is a product of patriarchal cultural norms that run deep in more traditional societies. Many imams have openly condemned the practice.
In reaction to a current case in Canada involving an Afghan man who is on trial for the murder of his three daughters and first wife, Canadian imams spoke out to condemn "honor" violence. Ottawa-based imam Samy Metwally told the Ottawa Citizen "What's called honour killing is not part of Islamic teaching or tradition, and in fact there is no honour in this killing at all..." He spoke with the newspaper on the day of the "call to action" when imams across Canada delivered sermons expressing their opposition to the practice.
In Turkey not long ago when a 19-year old named Ceylan Sosyal was killed by her brother with family connivance because she married without her parent's approval - six members of the family were taken into custody. Turkey is showing signs of getting to grips with a problem that PM Erdogan has described as "a longstanding bleeding wound of the society."
Writing in The Guardian
, Elif Shafak speaks of some of the
initiatives that are being taken in Turkey
, both officially and at the grass roots level, to address the problem:
Family and social policies minister Fatma Sahin has announced that abusive husbands will be kept away from their homes with the help of electronic handcuffs. A group of men in the eastern province of Van have organised a significant march to protest at male violence. The group's speaker proclaimed: "We are ashamed of men who attack women and do so in the name of manhood."

University students are marching on the streets, women's organisations are collecting signatures. Through blogs, websites, magazines, fanzines, panels and conferences activists are raising their voices, singers give concerts to honour women who have been victims of killings, writers and poets condemn the violence openly and contest it with their words. And yet, all this is not enough. Unless we change the way we raise our sons and discard our belief that they are superior to our daughters, unless we mothers stop treating our sons as the sultans in the house, nothing will be enough.
"Honor" violence in Turkey is rooted in social conditioning, especially in those sectors of society that have a more traditional patriarchal outlook. Using these tragedies to create the impression that Turkish leadership is extremist and "terrorist" is completely off-base.
Perry is at the back of the pack in S. Carolina so maybe he decided to go for a headline grabber in hopes of scaring up a few badly needed votes.