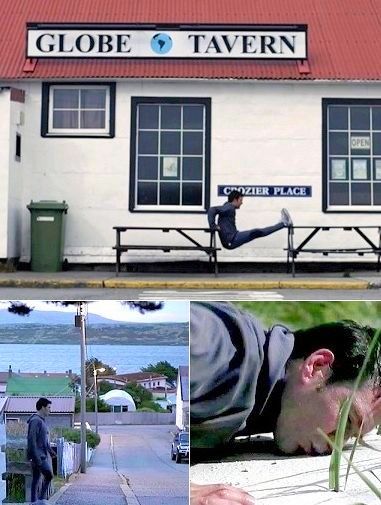 Earlier this year - the 30th anniversary of the Falklands war -
Prince William arrived on the islands for military duty
. His provocative presence at a sensitive time sparked angry words in the media and union jack burning in Buenos Aries. The US actor and activist Sean Penn pointedly criticized what he characterized as British geo-political grandstanding.
A new Olympics-related ad featuring
Fernando Zylberberg
of the Argentine men's hockey team is likely to set off another war or words. The 90-second ad was reportedly shot by the US based
Young and Rubicam advertising agency.
The ad begins with scenes of the Falklands in what looks like an early morning setting. Zylberberg appears in training gear, takes a look at a fluttering union jack and pulls a hood grimly over his head. Then he hits the road in the capital Stanley, stopping en-route to exercise outside the Globe Tavern and to do step-ups on the British war memorial. He winds up on a beach where he does push-ups and kisses the sand.
The ad closes with the words... "To compete on English soil, we train on Argentine soil."
The islanders aren't thrilled. A Falklands legislator, Ian Hansen, said the film was made without permission and demonstrates Argentina's disrespect for the islanders. On its website the government of the islands has posted
a reaction to the ad.
Zylberberg informed a Buenes Aries radio station that he took part in a March 18 marathon involving both Argentine and British veterans of the 1982 war. He said: "I spent all week running on the island... I crossed it all doing different takes. It's an incredible experience because we were surrounded by veterans."
The Argentine sports secretary, Claudio Morresi, told Reuters: "The Argentine delegation will travel to London with the conviction in their minds and hearts that the Malvinas are Argentine but all they will be going to London to do is take part in the sporting event."
In the opinion of this blogger Argentina has the stronger claim to the islands -
reasons here.
President Cristina Fernandez
de Kirchner's government has been seeking negotiations
but heated rhetoric and accusations of arrogance coming from both sides hasn't helped. The ad is unlikely to make communications any more congenial, but it will certainly draw attention to Argentina's claims.
More on the story from
abcnews
.