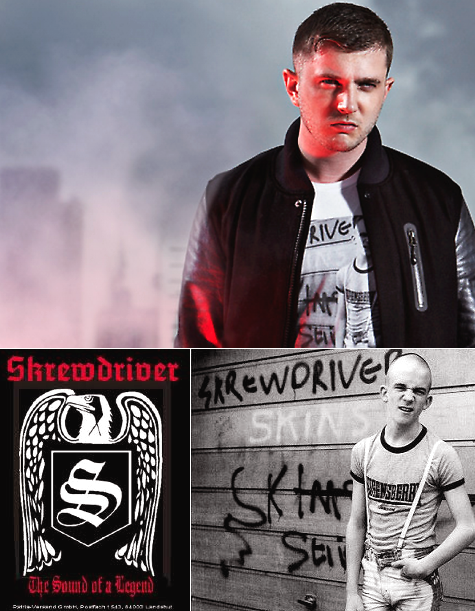 Shortlist recently ran an interview with rapper
Benjamin Paul Ballance-Drew (Plan B)
who for some reason showed up on the cover wearing a t'shirt bearing imagery associated with the white power band
Skrewdriver
.
If this was an effort to attract publicity, it has succeeded and not because anyone gets Plan B's motivation or possible cluelessness. Most in-the-know will just take a gander at the shirt and think "nazi" and "racist" because there was little about Skrewdriver's raw hate-driven act that inspires retrospective irony or even "art statement" appreciation.
Back in the 70's, before they went nazi, Skrewdriver got some respect as a punk band signed with
Chiswick Records
. In the early going they weren't publicly supportive of fascism. Their allegiances became clear a few years later when they came out and openly showed support for far-right groups such as the
National Front
and the
British National Party
. They even did fundraisers for the far-right.
Plan B's t'shirt looks identical to a photo that some claim features a young looking Nicky Crane, a neo-Nazi skin with a liking for bovver. Crane and Skrewdriver singer Stuart were behind the Blood and Honour movement. According to blogger Brian Whelan, it continues to raise funds for far-right extremists.
Crane had a lengthy history of violence. In 1980 he was reportedly involved in an assault on a black family and in the same year in an attack on black youths at the Woolwich Arsenal railway station. He was also reportedly an instigator in an attack on an anti-racist concert in Jubilee Gardens, London. When he was released from jail in 1984 he acted as muscle for Skrewdriver and over time got more involved - designing covers and writing lyrics. The song "Justice" included in
Hail the New Dawn
features Crane's lyrics
.
One reason people might wonder if Plan B was in some vague way showing tribute for Skrewdriver
is because during the interview he enthused about Tim Roth's acting in
Made in Britain
- a film about racist skins. To quote PB from
the Shortlist interview
- "f*cking amazing". But reading anything into that might be a bit rash, because according to Plan B, he [Plan B] doesn't even know who or what Skrewdriver is and so presumably is also clueless about the band's racism.
He is quoted in a
New Statesman article
giving his end of it:
I was ignorant to the existence of the band Skrewdriver. I don't listen to music like that so I wouldn't know the names of bands that make that music. I was wearing a t-shirt I created using a photograph from the photographer Gavin Watson's book Skins.

Gavin's photos are relevant to me because they represent the demonised youth of the past. Just like my generation of young people are demonised in the media to all be hoodie wearing thugs and chavs so were the skinheads in the 80's.

The minute I found out what the words on the t-shirt meant I was angry with myself for not questioning them. The t-shirt is not official nor is it on sale anywhere. It was of my own doing and therefore it is my mistake, but that is all it is.
An uncharitable view might be that negative reaction to the photo prompted some brisk back peddling. On the other hand maybe PB
really has
never heard of Skrewdriver. My grandmother had never heard of Andy Williams - these things can happen. It does seem a bit ill advised though to appear on a front page wearing a t'shirt with imagery that you're not entirely informed about.