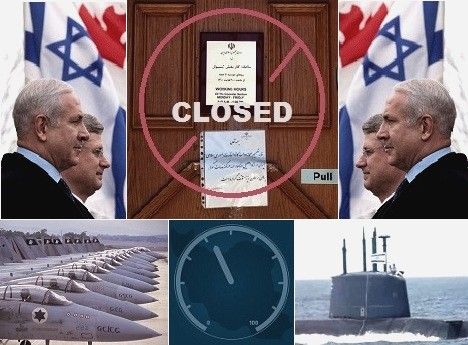 In a move that has pleased Israeli PM Netanyahu the Harper government
has shut down its Iran embassy
. On Sept 7 Harper's foreign minister, John Baird, characterized Iran as 'a threat to global peace.' He said "Canada has closed its embassy in Iran, effective immediately, and declared personae non gratae all remaining Iranian diplomats in Canada."
In
a recent T-Star article
Tony Burman notes: "Canada appears to have a new foreign minister. His name is Benjamin Netanyahu. His day job may be prime minister of Israel, but Canada's abrupt actions against Iran seem to confirm that the Harper government's outsourcing of Canada's Middle East policy to Jerusalem is now complete."
The Harper move adds weight to British MP George Galloway's sardonic insight. After he was banned from speaking in Canada Galloway shot back with his distinctive Scottish burr, pronouncing Canada 'little more than an embassy for Benjamin Netanyahu.'
The diplomatic break with Iran won't address concerns raised by Baird. It won't influence Iran's stance on Syria or its nuclear program. Harper's grandstanding is mainly about flexing the Maple Leaf in solidarity with team Israel, further reducing Canada's role in the Middle East to that of a proxy of Jerusalem.
The Iranian nuclear "threat" is overblown, largely engineered to serve US and Israeli designs. There is no imminent danger posed by Iran. The caricature of Iran as the region's loose nuke canon says more about propaganda than reality. During a 60 Minutes interview
former MOSSAD chief Meir Dagan
called a proposed strike on Iran "the stupidest thing ever" and characterized Iranian leadership as "rational." Israeli military chief Benny Gantz has said candidly that he doesn't believe Iran is pursuing nuclear weapons.
Articles in the mainstream media in Canada often allude to the 'Iranian threat continuing to grow' as though they have solid proof of this, as though it's a given we should all be buying into. You can point to ways in which Iran may present a destabilizing force to US/Israeli ambitions in the region and you can decide whether or not you think it's a good or bad thing... but you can't make grand pronouncements about Iran's nuclear threat because a lot of the conjecture is hyped well beyond the level of a realistic assessment.
Where is the real threat coming from in the Middle East? Unlike any other country in the region Israel is in possession of hundreds of nuclear weapons it doesn't officially talk about. These are being held in a sort of limbo state of "nuclear ambiguity." It refuses to sign the Nuclear Non-Proliferation Treaty and is not inspected by the IAEA. Of course this is no surprise. Israel routinely ignores UN resolutions it doesn't like and in key respects places itself above international law.
Iran on the other hand signed onto the Non-Proliferation Treaty. Under Section IV (1) it has an 'inalienable right' to enrich uranium for peaceful purposes.
Far from Israel's policies improving its standing in the world,
a recent GlobeScan/PIPA poll
shows that negative views of Israel worldwide have risen dramatically placing the country in the approval basement. It's a safe bet that many of those polled would regard Israel as a greater threat to peace than Iran.
For a reality check on the dynamics at play in the region a recent article by
Noam Chomsky
- "The US and Israel Threaten Peace, Not Iran" - provides interesting insights.
Chomsky notes that: "Like its patron [U.S.], Israel resorts to violence at will. It persists in illegal settlement in occupied territory, some annexed, all in brazen defiance of international law and the U.N. Security Council. It has repeatedly carried out brutal attacks against Lebanon and the imprisoned people of Gaza, killing tens of thousands without credible pretext."
He asks the question:

Why then is Iran the greatest threat to world peace, as seen in official Western discourse? The primary reason is acknowledged by U.S. military and intelligence and their Israeli counterparts: Iran might deter the resort to force by the United States and Israel.

Furthermore Iran must be punished for its "successful defiance," which was Washington's charge against Cuba half a century ago, and still the driving force for the U.S. assault against Cuba that continues despite international condemnation.
Link to Noam Chomsky's article in full -
here
.
Excerpt from professor Chomsky's UCL Rickman Godlee Lecture - "Is Iran a threat?"