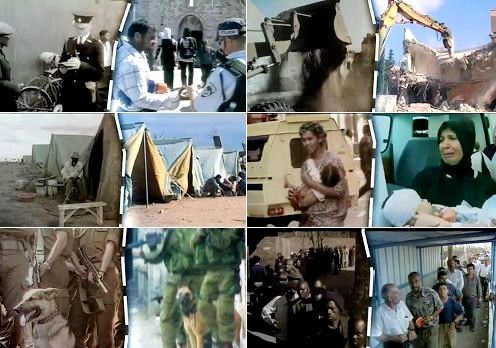 Clips from "Roadmap" that draw Israeli/S.African parallels
A recent film
Roadmap to Apartheid
is the first time parallels between the former South African apartheid regime and Israel have been explored in a feature-length documentary in any significant depth. The parallels have been all too evident to those on the receiving end of Israel's colonial-style apartheid policies and to activists on the front lines.
Roadmap
brings the message to a larger audience, including those who may be learning about the parallels for the first time.
The film is a joint project undertaken by a white South African, Ana Nogueira, and a Jewish American-Israeli, Eron Davidson.
Abraham Greenhouse
writing in Electronic Intifada
describes some of the strengths of
Roadmap
. He notes that the filmakers' "technical skills is readily apparent throughout the film, which looks like anything but a first-time effort.":
Roadmap employs striking data visualizations, animations and split screen effects, but does not overuse them. Decades-old footage is smoothly integrated with modern material, and the original footage is remarkably well-shot. The interviews employ a variety of different camera angles which help maintain an organic, conversational tone that never feels monotonous, and much of the on-the-ground footage of demonstrations and military incursions has an immersive, kinetic quality that pulls the viewer into the action.
The article also points out that the film has covered most of the important areas of concern: "... siege mentality colonialism, forced migration,checkpoints, passes, foreign natives, present absentees, partition and proxy rule, bombing and boycotts, bulldozers and Bantustans. Refugee issues, central to understanding Palestine, get less screen time, but this is mainly because this is one of the numerous ways in which the Israeli form of apartheid, as journalist Allister Sparks puts it, is "significantly worse than apartheid" in South Africa."
Israel has been more skilled than the old South African regime when it comes to political and legal strategies to minimize liabilities. Influential supporters in America and elsewhere present a face of Israel that essentially whitewashes much about the underlying reality. Black tie events, awards ceremonies, academic and cultural patronage, organizational outreach - some of the soft ways to promote the cause. This along with the political lobby and the reduction in the audio level when it comes to outspoken Israel criticism in MSM has contributed to a chill. Just a few additional reasons why the message of
Roadmap to Apartheid
needs to be heard.
The trailer
gives a sense of the impressive range of a film that also succeeds in preserving attention to detail: