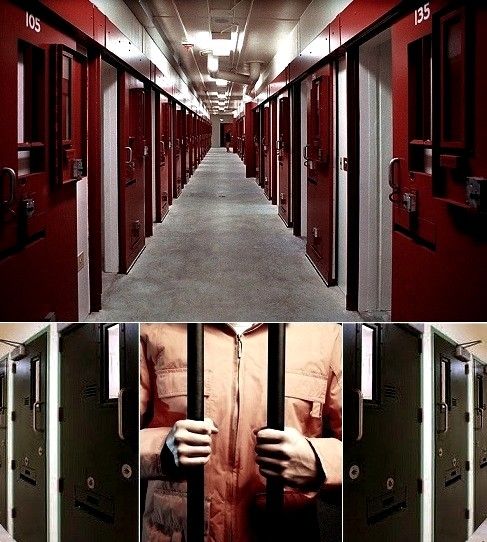 The US has the
highest documented incarceration rate in the world
. It breaks down to about 754 per 100,000 (2009 figures). By way of comparison Canada had 117 per 100,000 (as of 2008) and Australia 133 per 100,000 (as of 2010).
According to 2010 figures put out by the US Bureau of Justice Statistics, a total of 7,225,800 adults were listed as under correctional supervision (probation, parole, or in prison).
In some states prison overcrowding is a serious problem. Prisons in California with a capacity of 100,000 have been known to hold up to 170,000 inmates. There are problems related to violence, sexual assault, inadequate medical and rehabilitative delivery and also with the
lockdown of prisoners in solitary confinement
- a punishment that by any humane standard is a form of torture, especially as it is implemented in some prisons.
In 2005, the last time the feds released data, more than 80,000 people were in solitary confinement in US prisons. In Californian facilities, it's not uncommon for inmates to be held indefinitely in solitary.
An
Amnesty International
researcher, Angela Wright, said: "The conditions and length of imprisonment in California's isolation units are simply shocking... To deprive prisoners in a segregated environment of natural light, adequate exercise or meaningful human contact is unnecessarily punitive and unjustifiable in all circumstances."
Many inmates in solitary are "entombed" in cramped, windowless cells - in some cases for years. Imagine spending 22 to 23 hours in a box, day in and day out. Half of prison suicides and a lot of self-mutilation takes place under these conditions. A former Texan inmate said solitary "by its design is
driving men insane
."
A Guardian article
titled "Kids in solitary confinement: America's official child abuse" gives examples of teens placed in solitary in US jails and prisons, left to "cope with endless hours of extreme isolation, sensory deprivation and crippling loneliness...".
It mentions a 16 year-old, Molly, who was placed in what she described as a windowless "box." She was held there for several months, "locked down in her cell for 22 hours a day."
The article points out that:
No other nation in the developed world routinely tortures its children in this manner. And torture is indeed the word brought to mind by a shocking report released today by Human Rights Watch and the American Civil Liberties Union. Growing Up Locked Down documents, for the first time, the widespread use of solitary confinement on youth under the age of 18 in prisons and jails across the country, and the deep and permanent harm it causes to kids caught up in the adult criminal justice system.
Bizarrely enough, many teens placed in isolation are put there 'for their own good' - this includes teens who are believed to be suicidal and those under threat of physical or sexual abuse. Others are made to do lockdown stints for minor rule breaking. There have been reports that some of those subjected to long stretches in isolation fail to receive adequate educational and rehabilitative support. A girl held in these conditions who cut herself repeatedly said: "... it was the only release of my pain."
The photographer Richard Ross undertook a prison project that includes disturbing
images of children held in solitary confinement
ranging from traditional cells to "rubber rooms."
Some prisoners in Pelican Bay supermax SHU (Security Housing Unit) in California spend an average of eight years in solitary before being released back into the prison population or parole. Psychiatrists have come up with the term "SHU syndrome" to describe symptoms that are not unlike post-traumatic stress disorder - depression, anxiety, rage, even suicide.
Shane Bauer, one of the American hikers arrested by Iranian authorities on the Iran/Iraq border and held in Evin prison in Tehran, has
an excellent investigative feature
in Mother Jones this week titled "Solitary in Iran Nearly Broke Me. Then I Went Inside America's Prisons." He visited the SHU in the Pelican Bay supermax and in his article notes differences and similarities between what he observed in Pelican Bay and his own experience.
Bauer was held in Evin prison's isolation ward for political prisoners. He recalls in his article how small things mattered. Unlike the windowless cells in many American lockups, he had a window in Evin prison that helped keep him sane - "Without those windows, I wouldn't have had the sound of ravens, the rare breezes, or the drops of rain that I let wash over my face some nights. My world would have been utterly restricted to my concrete box... ".
He also mentions that the open air facility he exercised in was twice the size of the "dog run" at Pelican Bay. Link to Shane Bauer's Mother Jones article in full -
here
.
Beneath is a video of Bauer's visit to the Pelican Bay facility: