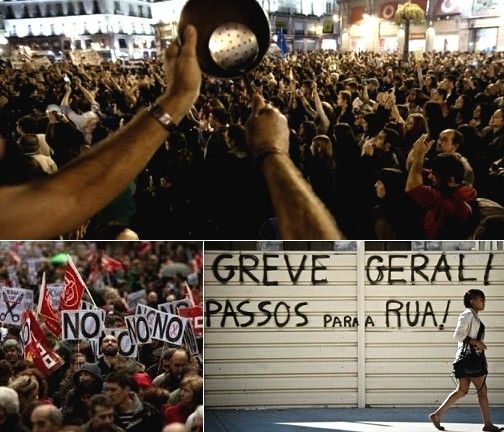 Over the past months there have been protests in Spain, Portugal and Greece against government-imposed austerity measures.
This week an austerity bill was passed by the governing coalition in Greece despite
strong political opposition and protests
. The measures include proposed cuts to pensions and benefits. Leader of the radical-left Syriza,
Alexis Tsipras,
blasted the government for "leading Greek people to catastrophe and chaos."
The current crisis in Europe wasn't caused by fiscal profligacy. Before the crisis, Spain for example was running a budget surplus with a low debt-to-GDP ratio. Austerity is a mistake. It has made a bad situation worse with cuts that have contributed to a fall-off in output and increased unemployment. In Greece and Spain the jobless rate is around 25%, with youth unemployment over 50%. These conditions jack up deficits and interest rates. It's a brutal, self-defeating "remedy" that serves the designs of the financial overlords while creating hardship in impacted communities.
People are fighting back. Protests and strikes are planned across Europe
in a November 14 (N14) day of action
. This is the first broad-based anti-austerity action that comes close to being a pan-European initiative.
The
European Trade Union Confederation
(ETUC) has called for solidarity action. In a statement ETUC described austerity as an assault on the European social model... attacks that "exacerbate inequality and social injustice."
One-day general strikes will be held in Spain, Portugal, Greece, Cyprus and Malta. The Italian union organization CGIL has
declared a four-hour strike
. In France demos will be held during the working day... the Paris demo is reportedly scheduled for Montparnasse. Solidarity protests will also be held in Germany, Belgium and Scandinavia.
Broad-based solidarity speaks louder than isolated protests and sends a message that is harder to ignore. Solidarity also sends a message in other important ways. Austerity has contributed to polarization driving some to the far-right. In Greece fascists associated with the Golden Dawn have been involved in numerous hate crimes against immigrants and ethnic minorities. A
Guardian article
discusses a claim by a senior police officer that the Golden Dawn has has "infiltrated the [Greek] police at various levels."
Protests and rallies will also be held in the UK. In London the Coalition of Resistance is helping to organize a solidarity demo that will gather outside the European Commission in Smith Square. It will be followed with a rally.
More info from Coalition of Resistance about N14 protest plans -
here
.
The video features a speech by Paul Murphy, Irish member of the European Parliament (MEP) for the Dublin constituency. He addresses austerity and the upcoming N14 day of action: