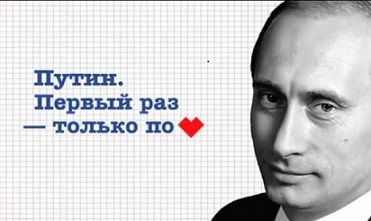 Pro-Putin ads have appeared
in Russia that suggest a first vote for Vladimir Putin is like a virgin giving it up to the partner of her choice.
On a website called The First Time, videos show young women consulting doctors with their concerns. One woman confesses she is rather anxious - "You know doctor, I am very scared, although my choice is one of love."
The doctor is sympathetic - "Everyone is afraid the first time. The main thing is to trust your choice. Because trust is love."
It becomes clear that her "first time" is about voting when she is shown walking to a polling station. The ad ends with romantic music and a picture of Putin.
In the video beneath the same virgin theme is played out, but in this case with the ministrations of a fortune teller rather than a doctor. She produces a tarot-like card with a picture of Putin to indicate the young woman's "lucky" fate:
A completely different spin on why a young woman might vote for Putin is offered by the video beneath. It
features Russian TV host Ksenia Sobchak
. After stating her willingness to support Putin, it becomes evident that it is a forced statement since she is tethered to a chair and surrounded by armed guards.
Here is a translation of what she says on the video:
I have decided to vote for this candidate because the economy and standard of living in our country have become much better. He has always been responsive to any request. He has helped us all. And especially now, with the threat of an Orange Revolution like in Syria or Libya, we can't rock the boat. We must rally around one leader. This is why I made this difficult decision.