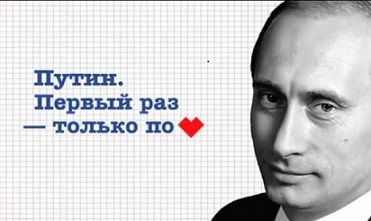 Pro-Putin ads have appeared
in Russia that suggest a first vote for Vladimir Putin is like a virgin giving it up to the partner of her choice.
On a website called The First Time, videos show young women consulting doctors with their concerns. One woman confesses she is rather anxious - "You know doctor, I am very scared, although my choice is one of love."
The doctor is sympathetic - "Everyone is afraid the first time. The main thing is to trust your choice. Because trust is love."
It becomes clear that her "first time" is about voting when she is shown walking to a polling station. The ad ends with romantic music and a picture of Putin.
In the video beneath the same virgin theme is played out, but in this case with the ministrations of a fortune teller rather than a doctor. She produces a tarot-like card which has a picture of Putin: