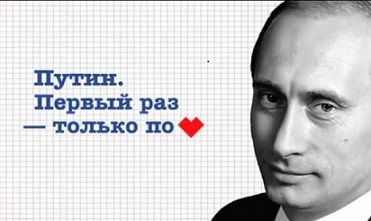 Creepy
pro-Putin ads have appeared
that suggest a first vote for Vlad is like a virgin giving it up. On a website called The First Time, videos show young women consulting doctors with their concerns.
One woman confesses she is rather anxious - "You know doctor, I am very scared, although my choice is one of love."
The doctor is sympathetic - "Everyone is afraid the first time. The main thing is to trust your choice. Because trust is love."
It becomes clear that her "first time" is about voting when she is shown walking to a polling station. The ending includes romantic music and a picture of Putin.
In the video beneath the same virgin theme is played out, but in this case with the ministrations of a fortune teller rather than a doctor. She produces a tarot-like card with a picture of Putin to indicate the young woman's "lucky" fate:
Putin is the furthest thing from a heart throb. In recent months he appears to have undergone some type of cosmetic process - possibly botox related - that has made his face look puffy in all the wrong ways.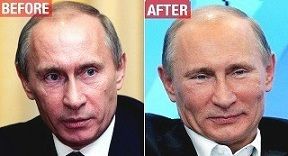 Even though he looks like an overgrown pixie, Vlad appears to fancy himself as a mix of action man and lover boy. This odd conceit is based more on perceptions than reality. If an unknown Putin strolled into a singles bar he would probably sit in a corner nursing a beer completely unnoticed. Without the refracted sheen of the legend he would seem pretty average.
He has
worked overtime at building up his public image
.
Vlad's Big Adventures
have included diving in the waters of Krasnodar and retrieving ancient Greek urns (planted beforehand), showing his rippling pecs while fishing and on horseback, kissing dolphins, saving tigers etc etc. Who does he imagine is taken in by his faux-heroics? Perhaps some ever-loyal babushkas in Siberia. It is unlikely that young Russian women looking to become ex-virgins dream of Vlad.
As for trusting him as the ads recommend, interested virgins would probably be a lot safer in the hands of count Dracula.
A more believable explanation of why a young woman might vote for Putin is offered by the video beneath. It
features Russian TV host Ksenia Sobchak
. After stating her willingness to support Putin, it becomes evident that it is a forced statement - she is tethered to a chair and surrounded by armed guards.
Here is a translation of what she says on the video:
I have decided to vote for this candidate because the economy and standard of living in our country have become much better. He has always been responsive to any request. He has helped us all. And especially now, with the threat of an Orange Revolution like in Syria or Libya, we can't rock the boat. We must rally around one leader. This is why I made this difficult decision.