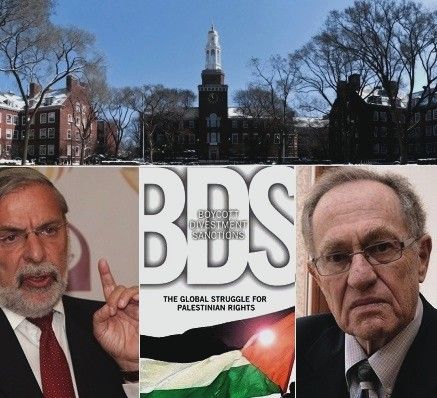 Top: Brooklyn College / Beneath: Dov Hikind and Alan Dershowitz
Brooklyn College
in New York has been the target of protest by pro-Israel groups and individuals following a decision by the political science department to cosponsor a panel discussion on the Boycott, Divestment and Sanctions (BDS) movement. Speakers for the event include the University of California Berkeley philosopher,
Judith Butler
, and Palestinian activist and political analyst,
Omar Barghouti
.
The BDS movement reflects the consensus in Palestinian civil society for a broad based campaign of boycott, divestment and sanctions against Israel to protest its oppression of the Palestinian people. For more detailed background link to
bdsmovement.net
Although the political science department at Brooklyn is cosponsoring the panel discussion, it is the students who are principally behind the event. Students for Justice in Palestine is hosting the speakers, but
as Glenn Greenwald notes
- "numerous student and community groups are also involved, including the college's LGBT group, pro-Palestinian Jewish organizations, and an Occupy Wall Street group."
Greenwald has covered some of the over-the-top attacks in the Guardian. It is no surprise that
Alan Dershowitz
is engaging in predictable smears... he characterized the event as a "hate orgy." Brooklyn State Assembly member,
Dov Hikind
, has also been making some outlandish accusations.
Greenwald:
Dershowitz has been joined in his current crusade by a cast of crazed and fanatical Israel-centric characters such as Brooklyn State Assembly member Dov Hikind. Ignoring the BDS movement's explicit non-violence stance, Hikind publicly (and falsely) claimed that the event speakers (to whom he referred as "Barghouti and…the lady") "think Hamas and Hezbollah are nice organizations, and they probably feel the same way about al-Qaida".
In his
Feb 4 article
in the Guardian, Greenwald warns of the "threat to academic freedom posed by this growing lynch mob"... which appears also to include members of the New York City Council. Greenwald said that "a ranking member of the New York City Council explicitly threatened to cut off funding for the college if his extortionate demands regarding this event are not met."
Calls for Brooklyn College to reconsider have even come from members of Congress. Four Democratic representatives - Yvette Clarke, Hakeem Jeffries, Jerrold Nadler and Nydia Velasquez - signed a letter calling on BC to "withdraw their endorsement" of the event. The letter was also signed by members of the State Assembly and city council.
An associate professor at the college, Corey Robin, is quoted in
a Mother Jones article
describing the call as "unprecedented." Robin said: "In the time I've been at Brooklyn College, since 1999, I can't remember a single instance where you've had a formal public call like this... I've never seen members of Congress doing this, as well. It's scary."
Robin makes the point that it is the students who are organizing the event and telling them who they can or can't invite amounts to a violation of their academic freedom. Academic institutions by their very nature are precisely the venues for the airing of controversial opinion. It is outrageous to target a college simply because it is offering a venue for a panel discussion of the BDS movement..
One of the speakers, Judith Butler, has written about the dangers of conflating criticism of Israel with anti-Semitism. She makes the point that the too casual overuse of "anti-Semitic" could well diminish the force of the term.
There have been calls by some protesting the event for a speaker to be included who represents a pro-Israel viewpoint. But events of this sort are convened in academic settings routinely without any requirement for speakers with opposing viewpoints. If anti-BDS advocates feel strongly about a speaker that reflects their views they can always schedule an event of their own.
In the Mother Jones piece, prof Robin said there was no precedent for inviting speakers to present opposing views on the panels they convene.

He [Robin] says the department has brought in other controversial speakers, such as former Black Panther Kathleen Neal. David Horowitz, the conservative pro-Israel commentator, has also spoken at the college. Next month, Glenn Greenwald will give a lecture at the department on civil liberties, Robin says. "Are we now obligated, if someone doesn't like him, to present an anti-civil-liberties position?" Robin asks. "Controversial speakers are part of what academic education is all about."
As usual some of the chief suspects have been attempting to conflate Israel criticism with anti-Semitism. A New York Daily News article refers to the event as "an Israel bashing lecture" and claims it will "condone and legitimize anti-Jewish bigotry."
Kudos to BC president Karen Gould for standing by the event in the face of rabidly partisan and undemocratic attempts to discredit perfectly legitimate discourse.
In this 2011 video
Omar Barghouti
, a founding member of Palestinian Campaign for the Academic and Cultural Boycott of Israel (PACBI) responds to a set of questions on the BDS movement.