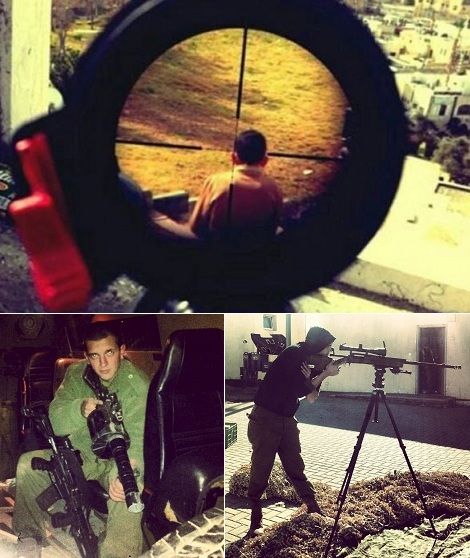 Top: Instagram 'sniper' image
Below: Mor Ostrovski and weapons
A photo posted on the personal Instagram account of Israeli soldier, Mor Ostrovski, showing rifle crosshairs trained on the head of what appears to be a Palestinian youth has sparked outrage and criticism.
Ostrovski's twisted visual isn't exactly unusual. That Palestinian life is cheap in the eyes of some IDF soldiers comes across also in t'shirts. In an earlier post I discussed incredibly offensive
anti-Palestinian t'shirt graphics
, one of which depicted crosshairs trained on the stomach of a pregnant Palestinian woman along with the line "1 shot kills 2."
These images echo a disturbing reality. Ostrovski's posting speaks to the 'culture of impunity' that extends beyond the online image to the very real targeting of Palestinian children by Israeli security forces. The statement by the IDF Spokesperson's Unit that Ostrovski's actions aren't in "accord with the IDF's spirit and values" can only be viewed with skepticism. Fact is Israeli soldiers who harm Palestinians are
rarely or never properly investigated and punished.
Reports of Palestinian children who have been targeted, in some cases while engaged in little more than playing soccer or going to-and-from school keep coming. In November of 2012, a 13-year-old named Ahmad Abu Daqqa was playing soccer when he was
killed near his southeast Gaza home
. He was shot by Israeli soldiers stationed nearby - one of several children killed by Israeli fire during the same time period.
A
Guardian article
-
Israeli troops accused of shooting children in Gaza
- discusses the shooting of Palestinian children in the so-called "buffer zone" created by Israel along the border with Gaza. The article cites figures from Defence for Children International (DCI):
Defence for Children International (DCI) has documented 10 cases of children aged 13 to 17 being shot in a three-month period between 50 and 800 metres from the border. Nine were shot in a leg or arm; one was shot in the stomach.
Incidents involving children span the last decade and beyond. In 2001 an 11-year-old Palestinian child named Khalil al-Mughrabi, was
shot and killed.
The boy was resting after playing in a soccer game in Rafah. Another example of the 'culture of impunity' in action was the killing of 13-year-old Iman Darweesh Al Hams in 2004. She was killed near a military observation post in Rafah. Read further details about the case -
here
.
Such incidents continue because a 'culture of impunity' in the IDF pretty much ensures that those involved are immune from the full force of the law.
The advocacy group Breaking the Silence has condemned the photo posted by Ostrovski - stating on their Facebook page "this is what occupation looks like."
Breaking The Silence
(BtS), is a non-governmental organization that does courageous and much needed work in bringing the hard truths of occupation into the light. The introduction on its website states in part:
Breaking the Silence is an organization of veteran combatants who have served in the Israeli military since the start of the Second Intifada and have taken it upon themselves to expose the Israeli public to the reality of everyday life in the Occupied Territories. We endeavor to stimulate public debate about the price paid for a reality in which young soldiers face a civilian population on a daily basis, and are engaged in the control of that population's everyday life.
Here are two BtS testimonials that address the treatment of Palestinian children. In the first an Israeli soldier gives testimony about his service in South Hebron Hills, where a child was shot dead by his unit:
The next video focuses on testimony about Palestinian child detainees who were subjected to abuse: